Traveling to me, means taking lots of pictures and the fun of discovering. I love going where the locals go to eat and have fun. It's a thrill to find the "off the beaten path" places suggested to you by new friends made along your travels. It's also visiting the "must see" sites that has made a place famous. Capturing the timeless moments is an integral part of traveling. This is a photography tribute to some of my favorite places in the world.
(1) Thailand
Temples. Monks dressed in robes. Street food.
Wat Phra Kaew, the holiest of all Thai temples. It houses the most sacred image in Thailand, the small green-jade statue of the Buddha, high on its golden altar in the Chapel Royal.
Ayutthaya is

steeped in ancient royal Thai history, chosen by King Ramthibodi as the first

capital of his kingdom in 1350.




Ratchaburi, the site of Thailand's most famous floating market has everything from fresh fruits, vegetables, and local handicrafts.
(2) Greek Isles
Fabulous sunsets. Historical sites. Greek gods.
Santorini, one of 227 inhabited islands in Greece.




Visit Acropolis to see the Parthenon, built in the fifth century BC. City states of ancient Greece are built around an acropolis where the inhabitants can go as a place of refuge in times of invasion.
(3) Paris
Eiffel Tower. Romance. Crepes.
Alexandre Gustave Eiffel designed the Eiffel Tower in 1889. He also designed the Statue of Liberty.
Cruising the Seine River symbolizes romance. The river divides the city of Paris in neighborhoods; with the Eiffel Tower in the south shore, Notre Dame in the center, and the Louvre on the northern shore.
Sweet or savory crepes can be found throughout the city.
(4) Grand Canyon - Bryce Canyon - Zion National Parks
Natural beauty. Hiking. Enjoying the outdoors.
The Grand Canyon is a holy site of the Pueblo people. It is 277 miles long and up to 18 miles wide. It's located in Arizona, about 300 miles southeast of Las Vegas.
Hoodoos are tall skinny spires of rock. They are most abundant in the northern section of Bryce Canyon National Park in Utah.
Emerald green swimming pool path, a backpacking adventure at Zion National Park in Utah.
(5) Cancun and Chichen Itza
Beaches. Recreation. Archaelogical sites.
Unbelievably beautiful turquoise waters and sugary white sands of Cancun.
Parasailing is a popular pasttime, along with sport fishing, scuba diving and other water sports.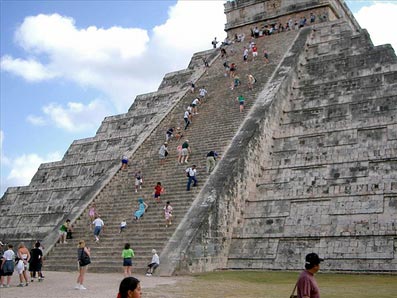 The ancient city of Chichen Itza in the Northern Yucatan of Mexico, is included in the seven wonders of the world and UNESCO's World Heritage sites.