Long weekends and staycations are becoming more popular with travelers. Being a tourist in your own city is a great way to spend time with the family without costing a fortune, or incurring extra vacation days from work. It is also a great way to discover new adventures in your own backyard. Like the photo above, you can participate in a Seafair annual summer celebration in one of Seattle's neighborhoods.
Seattle: Taking a look at my own backyard
Last year, my family's schedule didn't allow for a full blown Spring break trip. To make the most of our limited time, I booked a stay at a luxury hotel in downtown Seattle, so we can experience the life of a vacationer, from ordering room service, dipping in the pool, and touring the city to discover the delights of the Pike Place Market, the industrial space turned Olympic Sculpture Park, and unique attractions like the Fremont Troll.
If you haven't tried bidding on Priceline, it's a good opportunity to take this route for a great value on a mid-week stay in the city. I bid on a 4-star downtown hotel and ended up with the Grand Hyatt. At check-in, I requested a quiet room, away from the elevators. The Front Desk staff was so friendly, that they offered us a room at the end of the floor, which was a suite configuration with a separate seating room, and a marvelous view of the Space Needle. Because the hotel was not at full capacity, they were able to offer us this type of accommodation for the price of a regular room. The only drawback was the outrageous price of parking overnight.
Being centrally located, we had the kid friendly (for kids and kids at heart) Gameworks right across the street. With interactive games, simulators, air hockey etc., the kids had a variety of activities to choose from. After being a little hungry from a dance simulator game, we had a little snack at Starbucks by the hotel to get geared up to walk 7 blocks to Pike Place Market in the cold and rain. It doesn't seem to matter how many times we've visited the Market, we never tire of the sights and sounds we experience at every visit. Plus, it allows us to discover new favorite places.
One of our new favorites is the French restaurant Maxmilien. With a panoramic view of the of Puget Sound, and with its antique mirrors decor, we felt like we stepped into one of Paris' cafes. We ordered the delectable
Les moules Marinière, mussels steamed with butter, shallots, white wine, garlic and parsley. Since we had a late lunch, the restaurant was not busy, and we enjoyed prompt service and incredible food while delighting in our view.
A little mom time included a stop at the Sur La Table, originating in Seattle since 1972, it's first store at the Pike Place Market, offers a wide selection of cookware and kitchen gadgets. For the arts lover, numerous art galleries can be found steps away including the Steinbrueck Native Gallery. One of my favorite Native American artists is David Boxley, and I found a beloved piece for my collection there.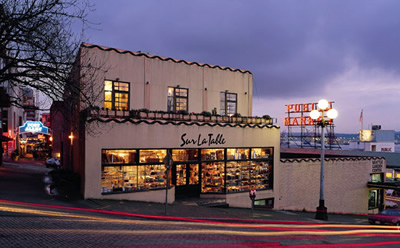 Photo courtesy of Renee Behnke of Sur La Table
Courtesy of Steinbrueck Native Gallery
The final stop of our tourist Day 1 is the Dahlia Lounge, one of the city's top restaurants by chef extraordinaire Tom Douglas. You may recognize the restaurant from the classic film
Sleepless In Seattle
. Order anything on the menu for its fresh and creative presentation, but, leave room for their desserts. Our family's favorite is the triple coconut creme pie. If you're not able to get a reservation, don't fret as next door you'll find it, along with pastries and sandwiches at the Dahlia Bakery.
Creme pie recipe courtesy of Tom Douglas
http://www.cakespy.com/blog/2008/4/16/coconut-dream-a-love-affair-with-tom-douglas-legendary-cocon.html.
After the walk up hill to our hotel, it was time for some rest and relaxation at the pool. The Grand Hyatt had a balmy mini pool, which we had to ourselves as the hotel business guests were still at their meetings. Afterward, it was time for some dining and movie viewing. It is truly priceless to be able to have room service while watching a newly released movie laying on a king size bed with the Space Needle as our companion view. The cherry on top of our wonderful staycation evening was the
crème brûlée
ordered from the Ruth Chris steakhouse housed inside the hotel.
Day 2 was a tour of the Olympic Sculpture Park, an ingenious endeavor by the Seattle Art Museum to utilize nine acres of waterfront industrial space into an outdoor community space. One can appreciate art and natural beauty of the Pacific Northwest, with a stop at this park. And the kids can run around, and still learn a bit of art education in the process. Admission is free, and is readily accessible by bus from downtown.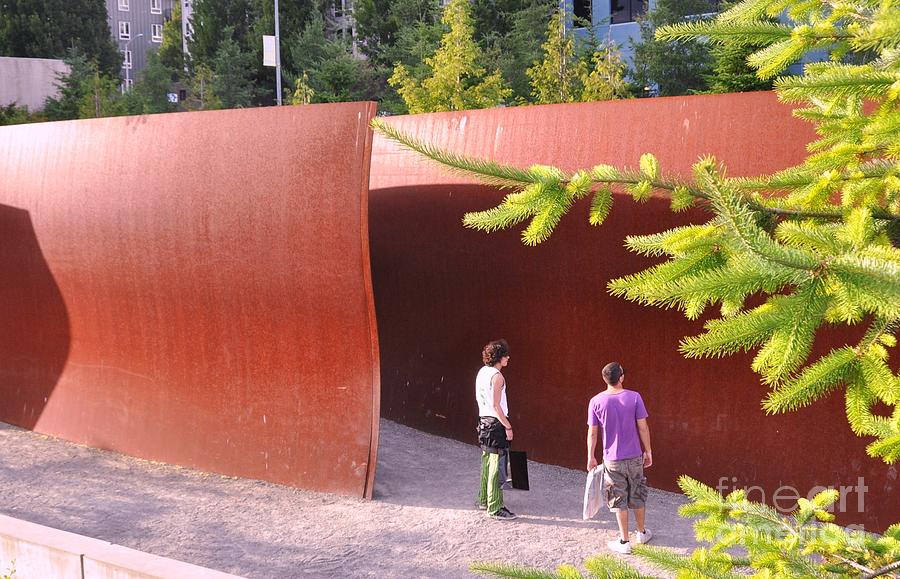 Courtesy of Seattle Art Museum
Later in the morning, we visited a local gem at Capitol Hill's Volunteer Park Conservatory. With free admission, it is a wonderful getaway from the blustery weather outside, with it's tropical setting of orchids and cacti.
Courtesy of Volunteer Park Conservatory
Next stop for more gems off the beaten path is to visit the famous troll in Fremont, one of Seattle's funky neighborhoods. And to have one of best desserts in town at Simply Desserts. My favorite is the strawberry white chocolate cake.
Courtesy of Simply Desserts
Bidding adieu to our staycation was a final stop at Gasworks Park for a beautiful postcard view of the Seattle skyline over Lake Union. When the weather is nice, you can ride on the Burke-Gilman trail which offers views of the park, and have a picnic along the grassy hill.
Photo courtesy of Lonely Planet